Wed 29 September 2021
By Dr Xue BAI
The COVID-19 pandemic has provided a unique opportunity for governments across the globe to reconsider its role in the multilateral trading system and the question of whether these unprecedented times and challenges call for reengineering the world trading system and a further retreat from trade liberalisation.
UNSW Law's Herbert Smith Freehills China International Business and Economic Law (CIBEL) Centre member Associate Professor Weihuan Zhou's latest co-edited book, titled 'Rethinking, Repackaging, and Rescuing World Trade Law in the Post-Pandemic Era' explores the ways to 'rethink', 'repackage' and 'rescue' world trade law in the (post-)COVID-19 era. Using the COVID-19 pandemic as an important context, the book makes original and critical contributions to the growing debate over a range of emerging challenges and systemic issues that might change the landscape of world trade law in the years to come.
Authored by leading practitioners and scholars, this book offers multiple perspectives and rigorous analysis of whether and how the existing trade institutions and/or rules, including their latest developments, may provide room to deal with pandemic-induced trade-related issues, sustainable development goals, future crises and other existential threats to the multilateral trading system.
This book has attracted great interest and received highly favourable comments from experts on WTO and international economic law.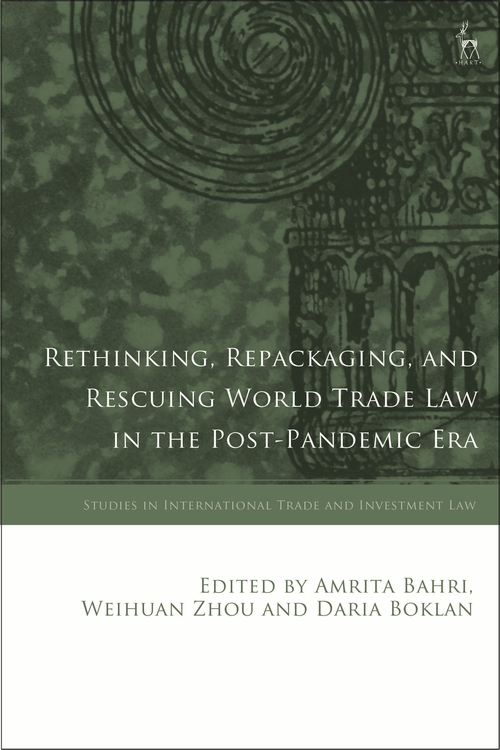 For Pamela Coke-Hamilton, Executive Director, International Trade Centre, Switzerland, this book "reinforces the importance of the multilateral trading system and provides thought-provoking reflections on the future regulation of international trade given many of the contemporary issues we are grappling with such as the recovery from the pandemic and the need to better reflect sustainability concerns in our trade discourse. A very timely intervention, and a must read."
James Bacchus, Distinguished University Professor of Global Affairs, University of Central Florida, USA commented that:
"At a time when the World Trade Organization is much in need of new ideas for reform and modernization, the authors of this book offer ideas aplenty ... This collection of essays by leading scholars from throughout the world will be of immense benefit to trade negotiators and to other trade policymakers as they strive to write new and improved rules for world trade while also ensuring that trade affirmatively supports health, environment, and the other Sustainable Development Goals of the United Nations."
Anabel González, Deputy Director General, World Trade Organization; Former Trade Minister, Costa Rica endorsed this book as "a not-to-be-missed book". She continued that "The WTO is at a crossroads. After years of embattlement, there is an opportunity to update its framework, reinstitute the dispute settlement mechanism and improve the way in which the organization works. Creative and innovative ideas are needed to move forward. This book explores just that ..."
This book seeks to reinforce the importance of international cooperation and the pressing need to reinvigorate the world trading system. The pandemic has provided a unique opportunity for governments to rebuild the political will needed for such cooperation. One should never let a serious crisis go to waste.
This book has been published on 23 September 2021 and is now available for order.
Associate Professor Zhou's research may be found at SSRN, Twitter @WeihuanZhou, and LinkedIn.
Update - Book Event
Associate Professor Weihuan Zhou participated in three consecutive events featuring his new co-edited book (with Associate Professor Amrita Bahri and Professor Daria Boklan) titled Rethinking, Repackaging, and Rescuing World Trade Law in the Post-Pandemic Era (Hart Publishing 2021).  This book is the output of the first major event organized by International Trade & Investment Law Research Group of the Law School Global League (LSGL). 
This book has had some immediate impacts worldwide attracting a great deal of interest and invitations for book events.
The book was launched at this year's WTO Public Forum in October, with former chair and member of WTO Appellate Body Prof Peter Van den Bossche (keynote) and Mexico's Ambassador to the WTO Ángel Villalobos Rodríguez (commentator). The book launch can be found here. 
The final event was hosted by the Faculty of Law, the National University of Singapore, with the support by LSGL's co-presidents Prof Simon Chesterman (Law Dean at the National University of Singapore) and Prof Martin Hogg (Head, School of Law, National University of Ireland Galway). Prof Colin Picker (Executive Dean, Faculty of Business and Law, University of Wollongong) delivered a keynote titled 'The Post Pandemic Context: Yet Another Brick in the Wall'. Associate Professor Zhou chaired this event.