Lunch Seminar: The latest development in China's specialized intellectual property court system
Location
UNSW Law Boardroom (Room 206), Level 2, UNSW Law, Sydney NSW 2052
Herbert Smith Freehills China International Business and Economic Law (CIBEL) Centre invites you to attend CIBEL Lunch Seminar "The latest development in China's specialized intellectual property court system" given by Professor Mingde Li on 29th November.
Abstract
China established its modern intellectual property system in 1978 and has followed a trend of special trial of intellectual property cases. In this respect, China established the special intellectual property tribunals in the Supreme Court, High Courts, some intermediate courts, and basic courts.
 
On the basis of the special tribunals, the Standing Committee of the National People's Congress passed a decision in August 2014 to establish three intellectual property courts in Beijing, Shanghai, and Guangzhou. Up to October 2019, in addition to three intellectual property courts, 21 intellectual property courts have been established under the approval of the Supreme Court. These courts have trans-regional jurisdiction on the first instance cases concerning patent, plant variety, layout-design, technical secret, and computer program. 
In October 2018, the Standing Commission of National People's Congress made another decision to establish an intellectual property trial court in the Supreme Court to hear appeal cases from the 3 and 21 intellectual property courts. Thus China has established a special judicial system concerning the cases of patent, plant variety, layout-design, technical secret, and computer program. 
This lecture will discuss the latest development in China's specialized intellectual property system, and the problems that shall be resolved in the near future. 
Speaker's bio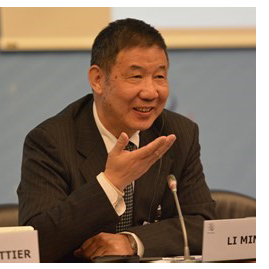 Professor Mingde Li graduated from Peking University with Bachelor, Master and PhD degrees. From January 1995 to January 1997, he was a visiting scholar in the School of Law, the University of Washington in Seattle, United States. From February to August 2001, he was a guest researcher in Max-Planck Institute for Intellectual Property, Competition, and Tax Law in Munich, Germany. From October 2006 to February 2007, he was an invited international guest researcher in the Institute of Intellectual Property of Japan.
He joined the Institute of Law of China Academy of Social Sciences in 1991 and Intellectual Property Center of China Academy of Social Sciences in 1997. At present, he is a senior professor in the Institute of Law and a researcher for the Intellectual Property Center. He also served as deputy chairman of Intellectual Property Law Society under the Law Society of China and as a member of the National Intellectual Property Consultation Committee. 
His research field is in intellectual property law and has published 10 books and around 80 articles. In addition to the research activities, he has been a speaker and lecturer in many conferences and symposiums conducted by UNESCO, World Intellectual Property Organization, National Copyright Administration of China, China Intellectual Property Office and China Trademark Office. At the international level, he has participated in many symposiums concerning intellectual property and spoken on intellectual property law topics.
 
Registrations close on 22 November.