Fri 14 June 2019
By Jayne He
Co-director of UNSW Law's Herbert Smith Freehills China International Business and Economic Law (CIBEL) Centre Associate Professor Heng Wang has been invited to serve as a panellist on the G2 Annual Conference on WTO and Global Economic Regulation, hosted by Georgetown Law & The Graduate Institute in Geneva last week.

The G2 Annual Conference on WTO and Global Economic Regulation has been broadly recognised as one of the most important and prestigious conferences in the field of international economic law (IEL). It addresses cutting-edge issues in its field of interest to academics and practitioners alike.

The 2019 Conference has been held at the Graduate Institute and WTO Headquarters in Geneva during 7-8 June 2019. This year's conference had three panel sessions and two roundtable sessions on various topics related to IEL.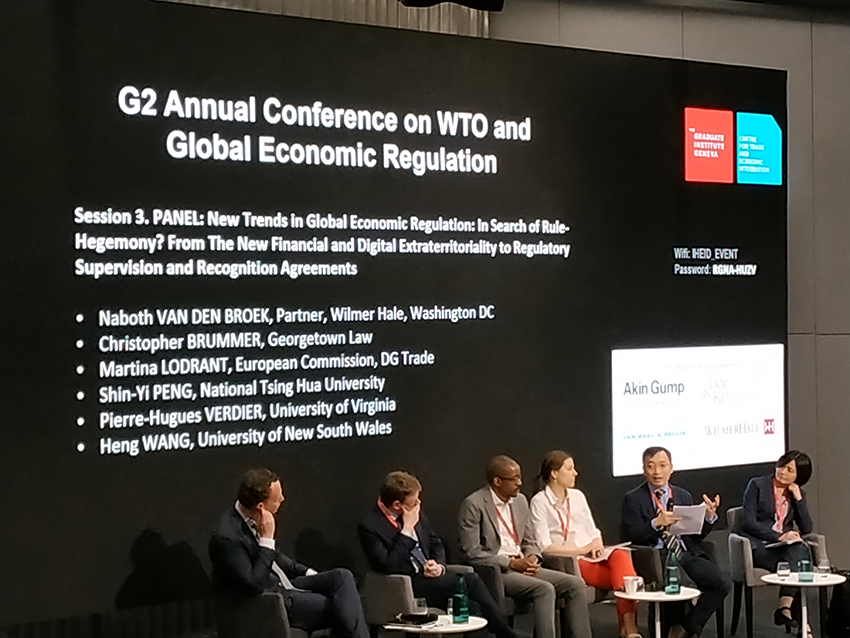 Associate Professor Heng Wang speaks at the G2 Annual Conference on WTO and Global Economic Regulation in Geneva on 7 June 2019.

Associate Professor Wang sat at the Panel on "New Trends in Global Economic Regulation: In Search of Rule-Hegemony? From the New Financial and Digital Extraterritoriality to Regulatory Supervision and Recognition Agreements", which focused on the recent changes of global trade and economic regulation from "multilateral" to "unilateral" or "bilateral".

At the panel discussion, Associate Professor Wang spoke on China's Belt and Road Initiative, the recent debating topics - trade war and the WTO crisis, and the implications of these recent trends on the future global economic order. 

He argued that regionalism and bilateralism are likely to rise and the effects on the future global order remain to be seen. 

The 2019 Conference engaged with a large number of experts and officials in the IEL field from many top research institutes, universities, regulatory bodies, the industry and the broader community around the globe, including those from Permanent Representative of WTO members, former WTO Appellate Body members, WTO Secretariat officials, and European Commission officials.